CUSTOMER
COMMENTS
"FANTASTIC PRODUCT! Best I've found. Pure sucralose, no fillers, DELICIOUS taste!"
"Excellent product. Sent quickly. Thanks for sharing such a potent product."
"Little bit goes long way!"
"Arrived quickly, tastes great..."
"Super fast shipping!! Item exactly as described. Large amount. Recommend ++++++"
SUPER SWEETENER is 99.5% pure* sucralose powder in a standard plastic spice jar with a dual (3-hole/spoon dispense) door top and a micro spoon for easy use.
Sucralose is the zero calorie active ingredient in SPLENDA® that's 600 times as sweet as sugar. It's essentially like SPLENDA®, but without the maltodextrin as filler.
Use a smidgen in your tea, coffee, cocoa, or bubbly water. Or, add a tiny pinch or mini spoonful to your baking recipes and:
save money,
lose weight,
prevent tooth decay, &
maintain healthy glucose levels.
3 oz of pure sucralose = 108.5 lbs of sugar!!
Reasons to buy this instead of SPLENDA®:
The label on SPLENDA® rounds down. Each large (5-lb sugar-equivalent) bag of SPLENDA® is actually 1,098 calories you might not want to put on your waist!


It's 75% cheaper than SPLENDA®!


It's even almost 30% cheaper than granulated sugar!

Click me for a price comparison.





*0.4% water, <0.001% heavy metals. Rated SQF 2000 Level 3 for food safety. (This is the highest possible level. The Safe Quality Food [SQF] Program is part of the Global Food Safety Initiative [GFSI] benchmarked food safety standard for food manufacturers, wholesalers, and distributors. The GFSI's highest rating is Level 2. Level 3 was given because even the GFSI requirements were exceeded.)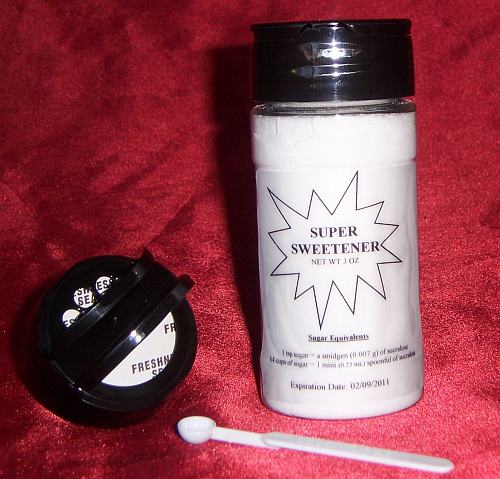 SUPER SWEETENER
NET WT 3 OZ/82 G
Sugar Equivalents

1 tsp sugar = a smidgen (0.007 g) of sucralose
0.4 cups of sugar = 1 mini (0.25 mL) spoonful of sucralose
PRICES
One jar with 0.5 oz = $15
One jar with 1 oz = $25
One jar with 2 oz = $40
One jar with 3 oz = $55
Two jars with 3 oz each= $100
One jar with 3 oz + 13 oz for refills = $250
[AD]